15 Best Halloween Makeup in 2018
Take a quick scroll through your feed and it's clear: Instagram has become the ultimate source of all things beauty inspo. And in the months leading up to Halloween—hey, it'll be here before you know it—your feed will be flush with a whole new crop of elaborate, out-of-the-box makeup ideas, including the deeply creepy, the crazy beautiful, and, of course, the politically charged, all of which are definitely worthy of a double tap.
So to help keep you from another year of procrastinating, scrambling, and ultimately hating on your costume all night, we rounded up our favorite ideas, below, to get you inspired way, way ahead of the big night.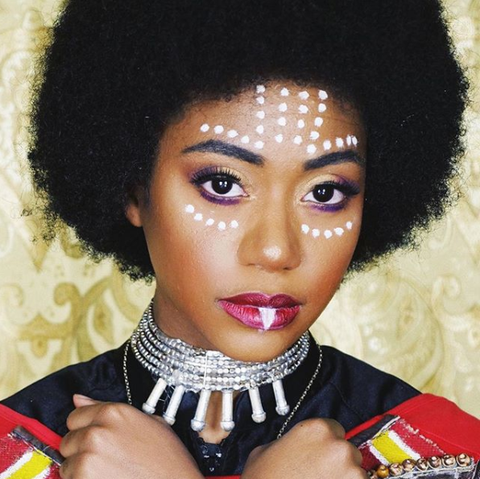 The world will be transformed into a living, breathing Wakanda on Halloween night, thanks to the brilliance that was Black Panther. Recreate the vibes with white dots lining your forehead and eyes, along with a white stripe down the middle of your lip.
(Important side note: Before you attempt this look, please make sure that you're not a culturally appropriating jerk this Halloween.)
Makeup by @Timaloveslemons
2
The "I'm Tired of This Shit"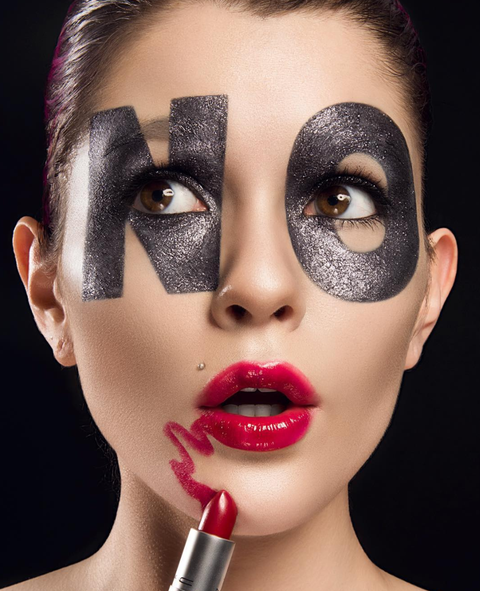 Because your voice most definitely hasn't been heard enough this year, please take this moment to emblazon the word "NO" across your face in protest of, well, pretty much all of 2018.
Makeup by @sarahmcgbeauty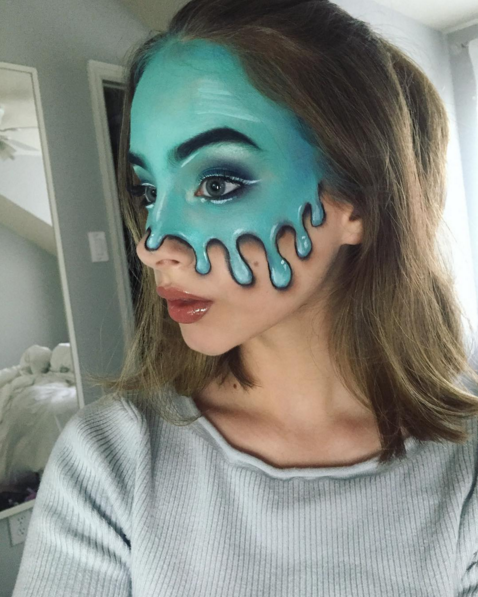 In a Flubber-meets-Avatar moment, this two-toned look pairs the abstract (dripping, teal-blue "slime") with the classic (bold brows and glossy brick lips) for a weirdly pretty—and kind of creepy—finish.
Makeup by @beautygonebad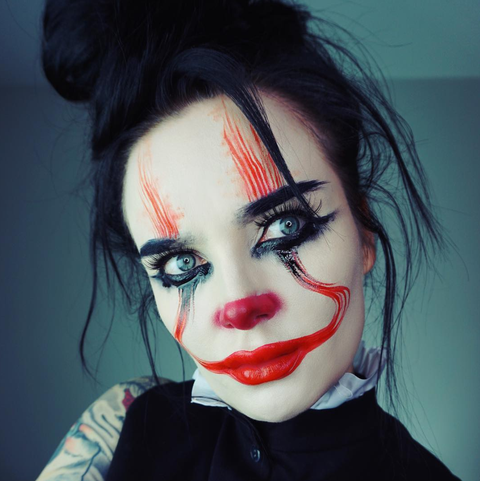 We're still having nightmares from the one time we saw It, but that doesn't mean you can't put your own spin on the creepy clown trope with some smeared eyeliner and overdrawn lipstick.
Makeup by @ida_elina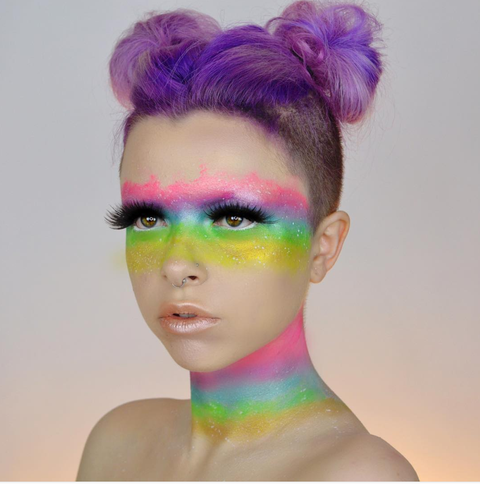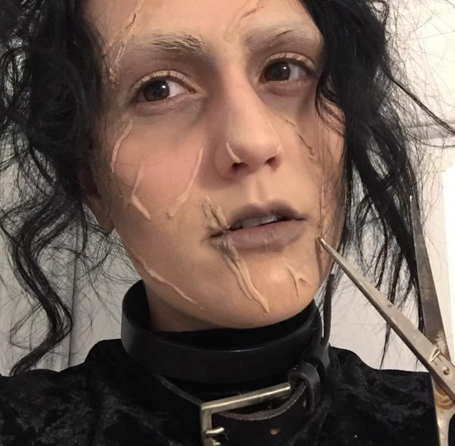 Channel Hollywood's most lovable and most terrifying character with a tousled black wig, a belt choker, and some bleached (i.e. foundation-covered) eyebrows. To recreate the scars, try eyelash-gluing strips of rolled-up tissue all over your face before covering them with concealer and foundation.
Makeup by @lexiflow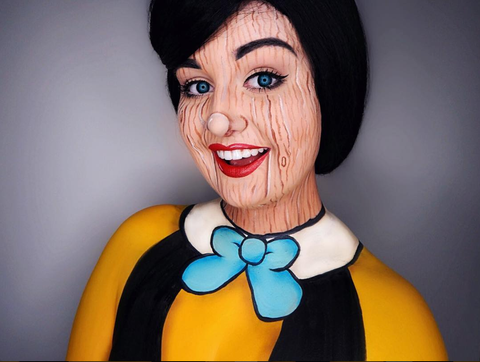 Needed: a very steady hand for the drawn-on wood patterns and the décolletage details.
Makeup by @casslloydfox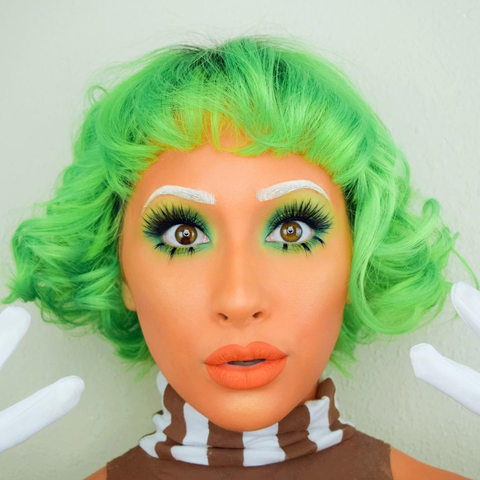 We're not sure what the highlight of this costume is—the green and yellow eyeshadow, the white eyebrows, or the tangerine skin? Regardless, make sure you have some good makeup-removing face wash on hand when the night ends.
Makeup by @ahitsrosa
9
The Snapchat Rainbow Vomit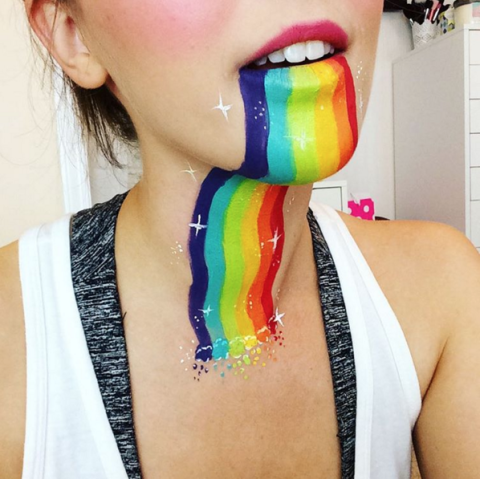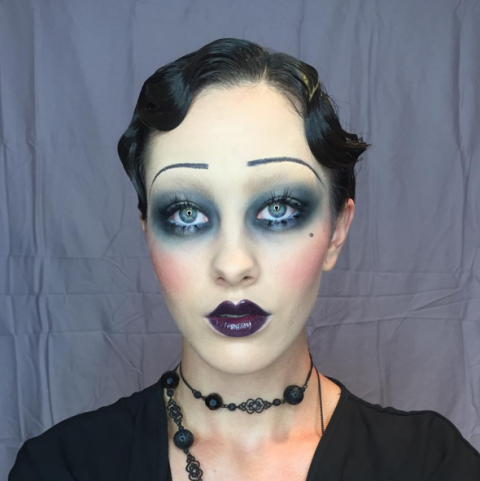 Transform yourself into a Roaring Twenties siren with pencil-thin brows, vampy lips with a prominent Cupid's bow, and smudgy, hazy black eyeshadow. Top it off with a mandatory beauty mark under the eye or above the lip.
Makeup by @aleciamakeupartistry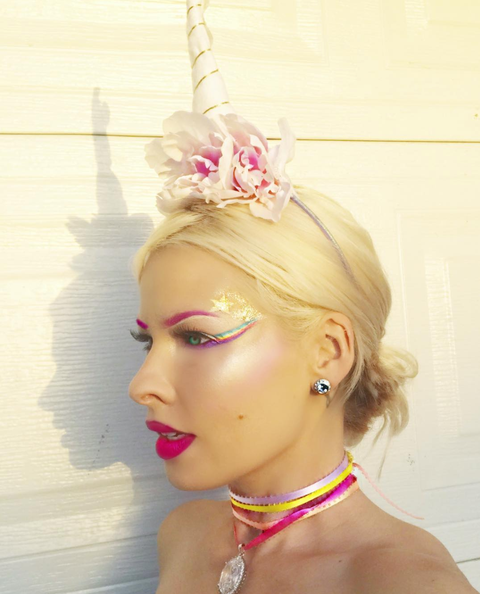 Just accept it: Unicorns will never not be a Halloween staple. Luckily, this lowkey look is way less heavy-handed than the usual glitter-soaked variety, making it perfect for beginners (or tipsy pre-gamers).
Makeup by @makeupartist411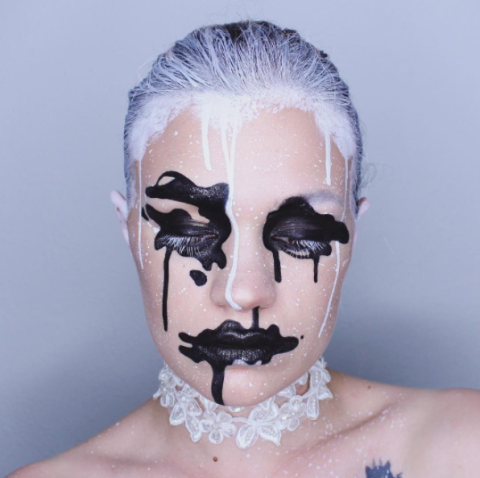 Like something straight out of American Horror Story (or your worst Rorschach test nightmare), this runny, inky, spotted look stays elevated with a white lace choker.
Makeup by @makeupbymouse
Add some 2D comic-book details to your 3D costume with some pop-art lines and dots, and, of course, a hand-drawn tiara.
Makeup by @menatoledomua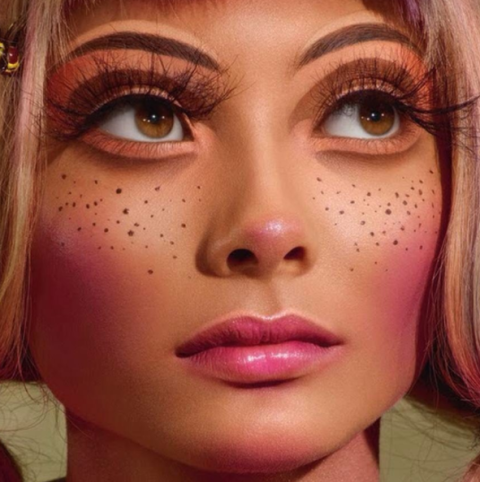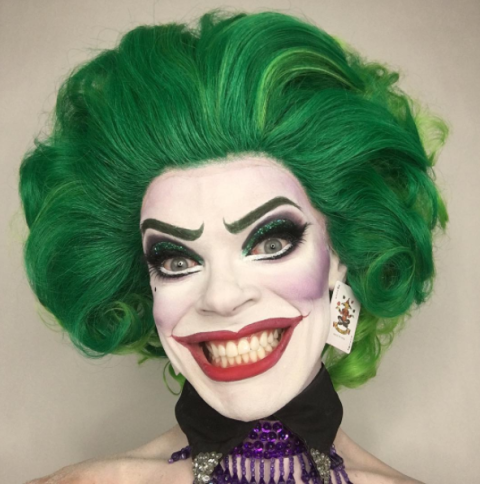 Heath Ledger Joker will always be the one-and-only Joker in our hearts, but we're still feelin' this glamorized version of the villain with its bouffant-level wig and huge smoky eye.
Makeup by @rtist